Get your vision in the light
Grab attention. Manage perception. Influence your brand. Gain traction.
Work with ILS to bridge the communication gap between your school, businesses, strategic partners, philanthropists, and your local school community.






ILS-logo-design-slide
REINVIGORATE SCHOOL PRIDE
Custom school logo design
"A Logo is the point of entry to the brand."
Milton Glaser, Designer
ILS-photography slide
VISUALIZE AND EXPRESS YOUR SCHOOL CULTURE AND CLIMATE
Professional Photography
"Don't shoot what it looks like. Shoot what it feels like."
David Alan Harvey, American Photographer
ILS-video-banner
SPEAK TO WHO NEEDS YOU MOST
Share compelling videos
Standing for everyone is standing for no one.

ILS-website-banner
INVITE OTHERS TO LEARN MORE
Clear and bold websites
Make things easy to access and understand
ILS-website-banner
SHOWCASE HIDDEN RESOURCES
360° Virtual Tours
Show prospective students and parents the resources they wouldn't expect.
ILS-website-banner
DRAW ATTENTION TO YOUR VISION AND RESOURCES
Print and Digital Marketing
Create a cohesive representation of who you are to the outside community.
Change your school perception and expectations with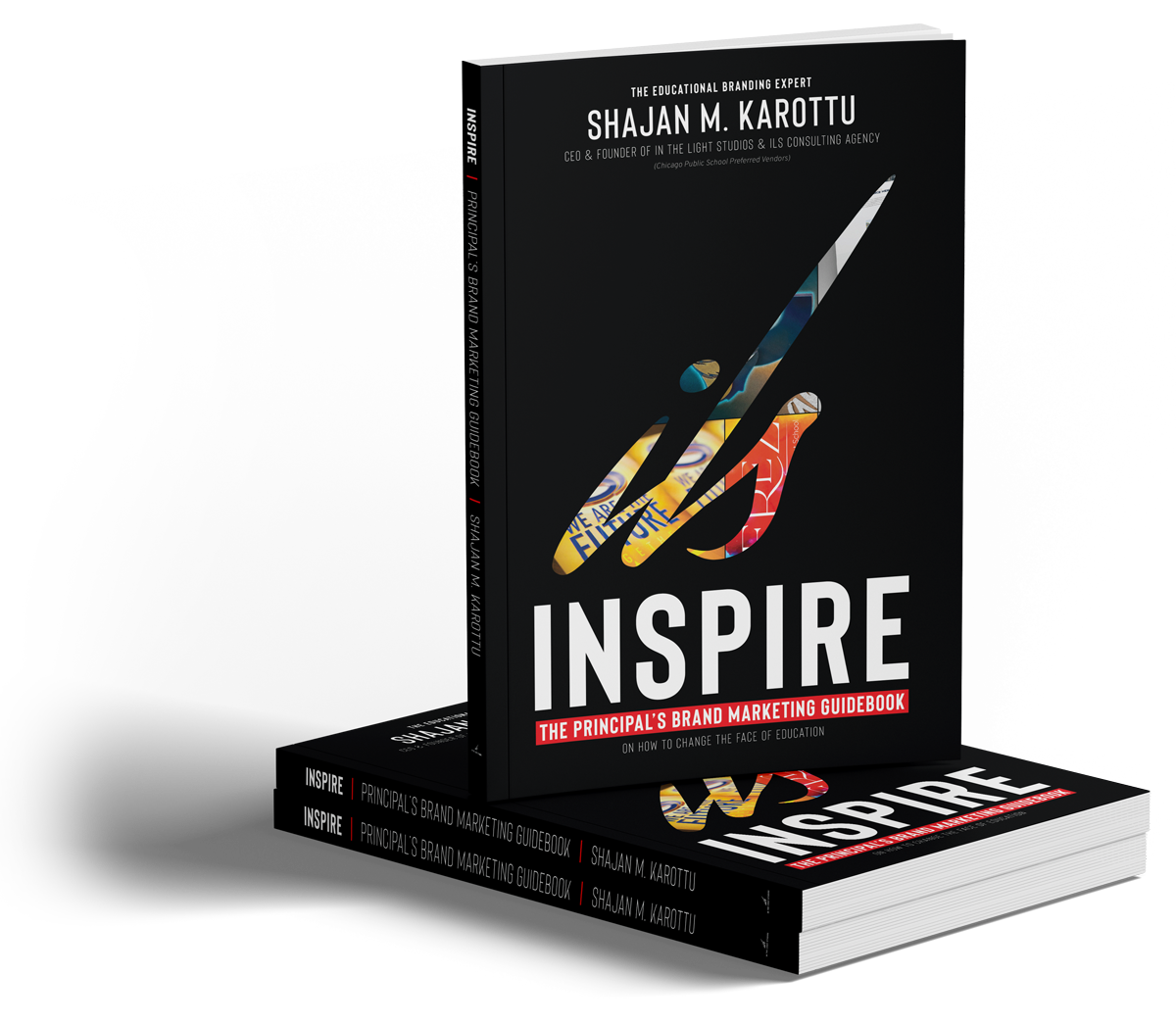 INSPIRE: The Principal's Brand Marketing Guidebook
Learn how principals use brand marketing to lead and inspire school communities and meet their full potential.
If there was a clear and concise way to help principals understand the difference, value, importance, and impact of branding and marketing, INSPIRE, The Principal's Brand Marketing Guidebook, is it. It will help you rethink your purpose and how you can ethically market your school to help change the face of education. 
If you're a principal looking for a fresh way to bring your vision to life in your school community, this book is for you. It breaks down the process of how to ethically communicate to a technologically savvy, media-saturated generation longing for identity, purpose, and belonging. 
"I wrote this book as a tool for principals to understand the process of branding and marketing: what they are, and how they fit into your work life. I trust that by reading it, I can somehow help redeem what marketing is in your mind and help you use it for good."
Shajan M. Karottu
Founder and CEO, In the Light Studios
Are You a Visionary Principal?
Looking for a creative strategic partner?
We understand marketing has a bad reputation when it comes to education.
Your mindset about this work will affect your efforts exponentially. It will either stunt or propel your ability to move your vision and mission forward.
Ethical brand marketing connects to you and what you offer. It's personal, and we're looking forward to helping you reconnect your passion to your calling.
It's OK not to know where to begin. Starting a conversation is the first step in understanding how and where to begin.
We love supporting new leaders who desire to make an impact. 
"You may have the greatest bunch of individual stars in the world, but if they don't play together, the club won't be worth a dime."
— Babe Ruth, American Baseball Player
Allow us to help you process your next steps. Book a FREE, no-obligation consultation with a brand marketing creative team advocating for education and you.